Some 200,000 people swarmed the streets in Belarus's capital Minsk on Sunday demanding that President Alexander Lukashenko – often dubbed "Europe's Last Dictator" – step down after 26 years of rule.
The demonstrations, in which at least one person has died and come less than a week after what most international watchdogs have deemed fraudulent reelection, are considered the largest-ever in the history of the former Soviet nation. But who is 65-year-old Lukashenko, and why will he not go quietly?
"Lukashenko comes straight out of central casting. A typical authoritarian leader who seems stuck in a different time and stubbornly refusing to change, even as the world modernizes," Brett Bruen, a former U.S. diplomat who served as the director of Global Engagement at the White House, told Fox News. "Media is weaponized against his critics. Opposition politicians are arrested and barred from standing for public office. Sometimes they are even publicly beaten by police."
THOUSANDS SWARM BELARUS STREETS TO PROTEST POLICE VIOLENCE DURING PEACEFUL DEMONSTRATIONS
Lukashenko has domineered the country of 9 million since 1994, taking power right after the fall of the former Soviet Union in 1992 – and has built something of a cult of personality throughout his more than quarter-of-a-century reign. He is known for his charisma, trademark mustache, eccentricities and self-promotion as a "man of the people."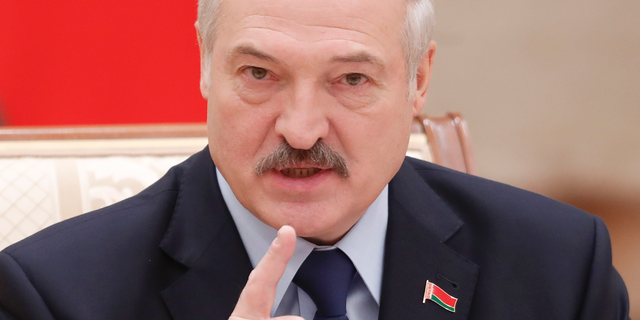 During the Soviet era, Lukashenko ran a state farm and thrived on the nickname of "Batka" – meaning father – as he sought to curate an image of a caretaker of the Belarusian people, their animals and the country's agriculture and industrial industries in what some analysts consider to be holding on to the Soviet heyday. Yet the fatherly persona also brings with it an eccentric and an authoritarian approach to leadership, experts contend, in which opposition parties are routinely repressed, imprisoned and sometimes "disappeared" without a trace.
BELARUS PRESIDENT HECKLED BY FACTORY WORKERS, SAYS THERE WILL BE NO NEW ELECTION 'UNTIL YOU KILL ME'
The "one-man ruler" has effectively depended on the country's secret service called the KGB – retaining the Soviet-era name – to sustain his position of power, and over the years, Lukashenko has been condemned for his at-whim constitutional amendments and the changing of referenda laws to stay in office.
Insulting the president is punishable by up to five years in prison, and criticizing Belarus abroad is punishable by up to two years behind bars – making the ongoing protests even more significant in illuminating the desperate quest for change.
"Over the 26 years in power, he ran in six presidential elections, none of which were deemed fair or free under international standards. He instituted a puppet parliament with no opposition in it," asserted Sofya Orlosky, senior program manager of Freedom House, Europe and Eurasia. "Laws that have been passed during his time in office have curbed the ability of journalists to report freely and made it impossible to register a rights-focused civil society organization."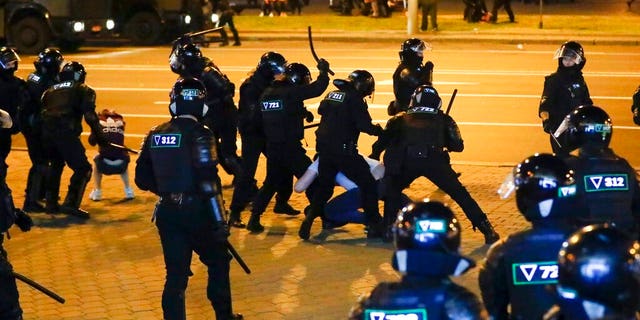 Lukashenko's personal life, too, is a topic of private whispers. His high school sweetheart and wife, Galinka, has long been living on a farm far from the capital, oddly shielded from the public eye and next to no photos are available. Meanwhile, the leader has been spotted routinely at public functions with a beauty queen in her early 20s – and he doesn't shy away from poking fun at his "dictator" tag in the West.
BELARUSIAN OPPOSITION LEADER FLEES TO LITHUANIA AFTER DISPUTING PRESIDENTIAL ELECTION RESULTS
Lukashenko's official presidential biography states that in the past, "he was not a member of the Communist Party or government nomenclature," characterizing him as a "statesmen whose popularity can be attributed, first of all, to his personal merits and support of the people."
"On 10 July 1994, after a difficult election campaign involving five other candidates, Aleksandr Lukashenko was elected president of the Republic of Belarus. He won 80.3% of the vote," the biography states. "On 9 Sept. 2001, Aleksandr Lukashenko was reelected president of the Republic of Belarus with 75.6% of the vote. On 19 March 2006, he was elected president of the Republic of Belarus…


Read More: Who is Belarus President Alexander Lukashenko, 'Europe's Last Dictator'?