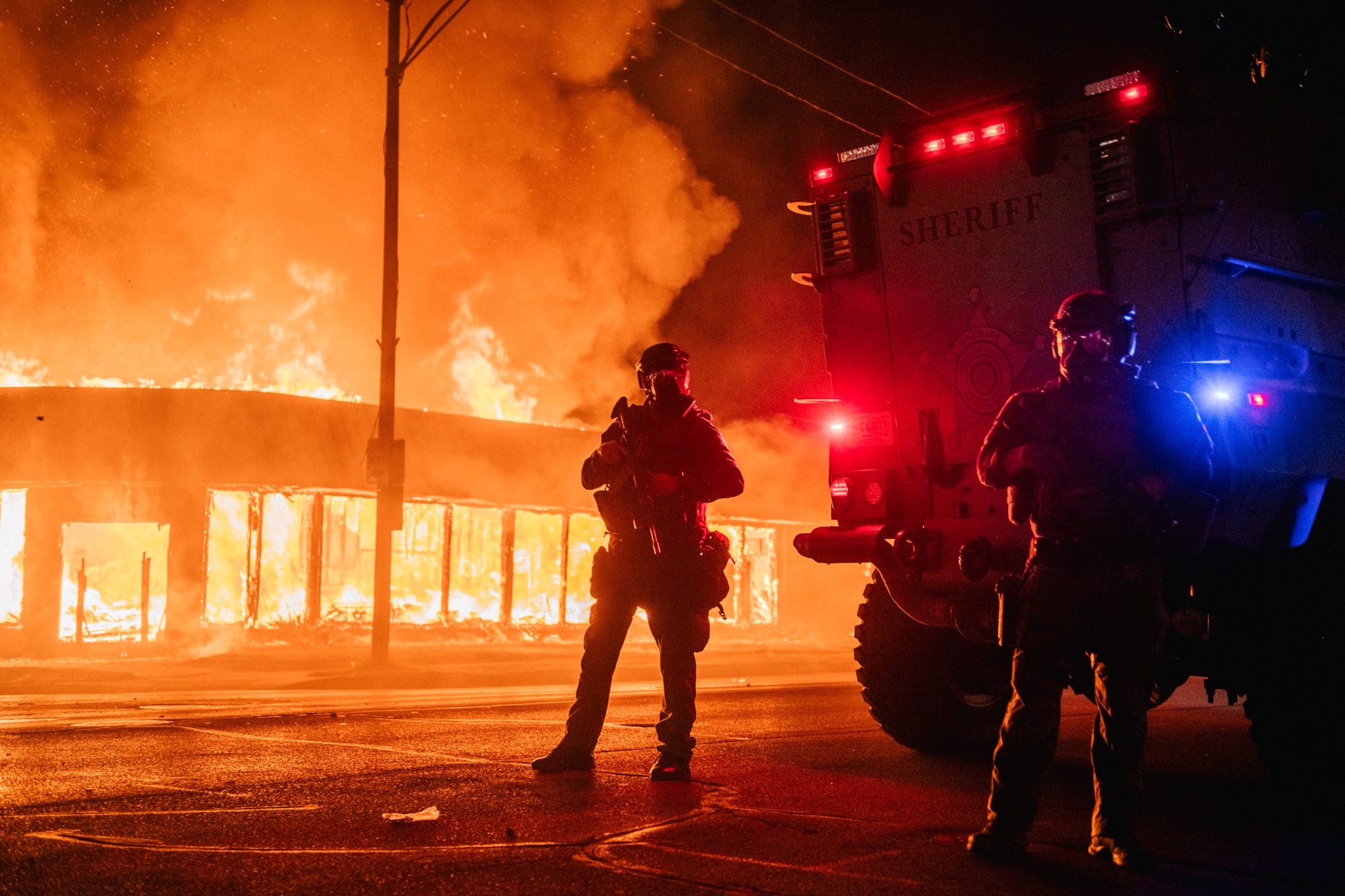 To get John Authers' newsletter delivered directly to your inbox, sign up here.
Prediction Markets vs Pollsters
Labor Day will be late this year, on Sept. 7, and it barely seems to function as the start of the presidential campaign any more. With both parties' conventions complete, the last leg of the U.S. presidential campaign starts now. 
It does so with prediction markets, in which investors trade futures tied to the result, suddenly sharply out of line with the closest political equivalent of "fundamentals" — rolling poll of polls averages. The following chart of the polling average from RealClearPolitics shows the Democrats' Joe Biden in a clear and stable lead of almost 7 percentage points: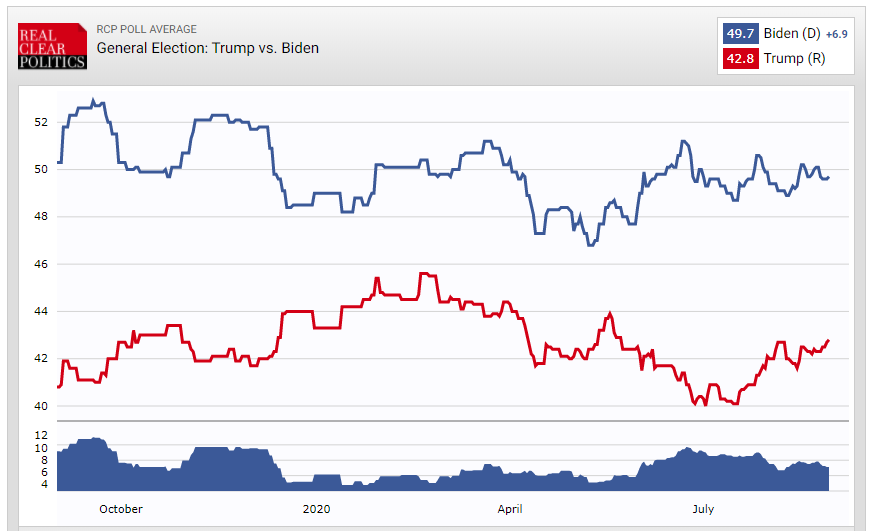 Now look at the "betting average" compiled by the same organization. This aggregates a number of spread-betting sites to produce an average probability of each candidate winning. On this reckoning, Biden's lead has collapsed in the last month: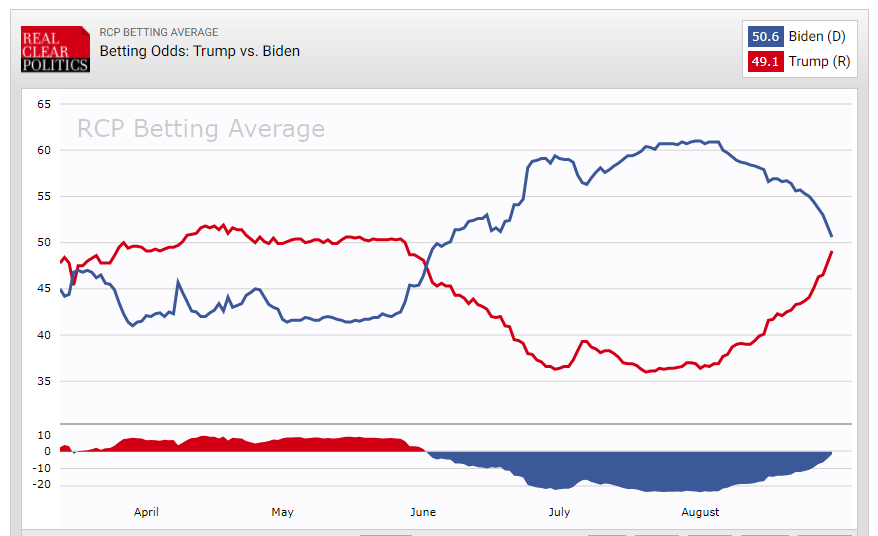 In the Predictit market, where investors trade futures tied to political outcomes, the spread on Biden beating Trump has declined sharply, but is still at 10% (55% plays 45%). What will be horrifying to Democrats is that their chance of taking control of the Senate is deemed to have imploded: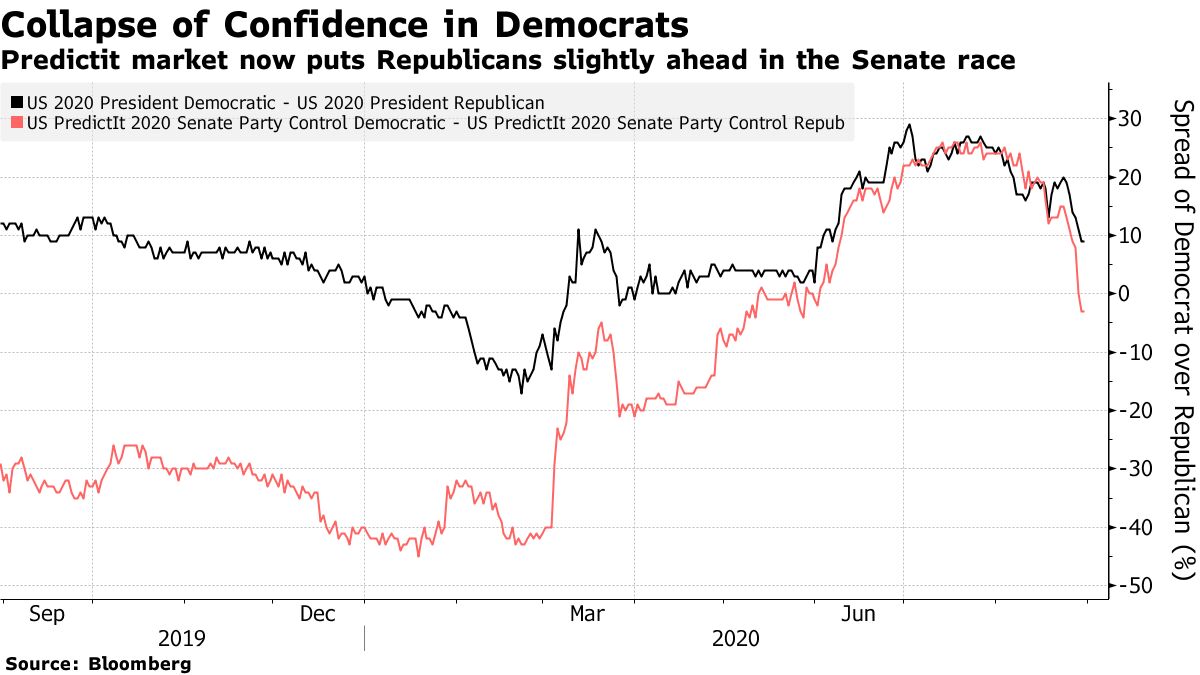 Neither prediction markets nor polls are perfect. They were both wrong four years ago. But it's hard to get a better grasp on perceived probabilities than from a prediction market, where people are betting actual money. Over history their results have tended to be uncannily accurate. And polls tend at least to be directionally right.
There are, I suspect, three factors at work here. The first is simply a lag. Gamblers have the chance to place bets before the polls come out, and a lot of people are convinced that the odds have shifted in the Republicans' favor. This will be partly due to the Republicans' convention, which would normally give some polling "bounce," but is more thanks to a second critical factor, which is the disorder in Kenosha, Wisconsin.
Since the shooting of Jacob Blake went viral a week ago, trading volume in Predictit's contract on the presidential outcome in Wisconsin has surged, as has the probability of a Trump victory. Biden is still shown with a slight lead, but it has reduced sharply — and Wisconsin may well be the "tipping point" state that decides the election.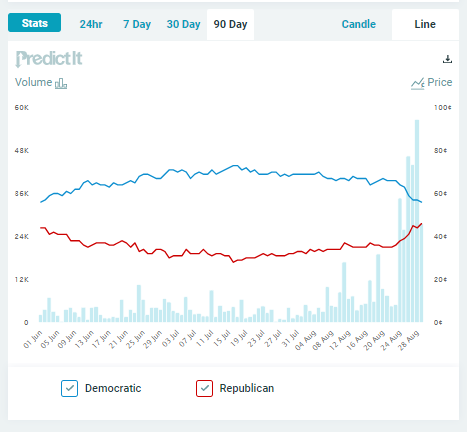 The Kenosha effect isn't specific to Wisconsin. Bettors appear to believe that the disorder will help Trump throughout the country. Here is a similar chart for North Carolina, a state that fell to Barack Obama and which bettors considered a likely Biden victory. There has been a dramatic change, which started before Kenosha and has since accelerated: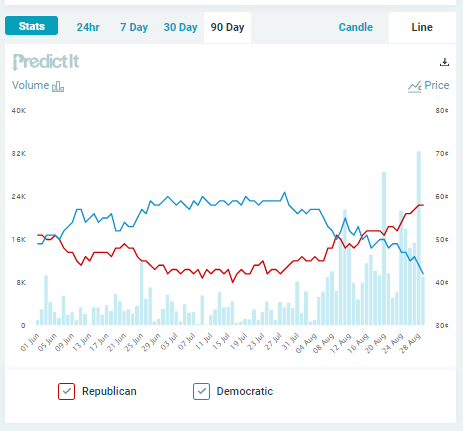 Are prediction markets right? In 1968, perceptions of increasing lawlessness helped Richard Nixon to victory — but he was running against a sitting vice-president, while the current Republican candidates are incumbents. There is also a strange disconnect in the betting markets, which is that the violence following the killing of George Floyd in late May, and the growth in support for Black Lives Matter, was seen as almost wholly positive for Biden, while the latest protests are seen as helping Trump.
There should be more evidence on the Kenosha impact in coming days. For now, the caution of fivethirtyeight.com makes sense: "There's just not a lot of data that can help us understand how Americans are responding to what's happening in Kenosha, Wisconsin, but… one thing we do know is that declining support for the Black Lives Matter movement hasn't translated to a decline in support for Biden just yet."
The final factor is the coronavirus. So far this year, Biden's chances have improved when cases are increasing, and declined when they are falling. The relationship is startlingly close: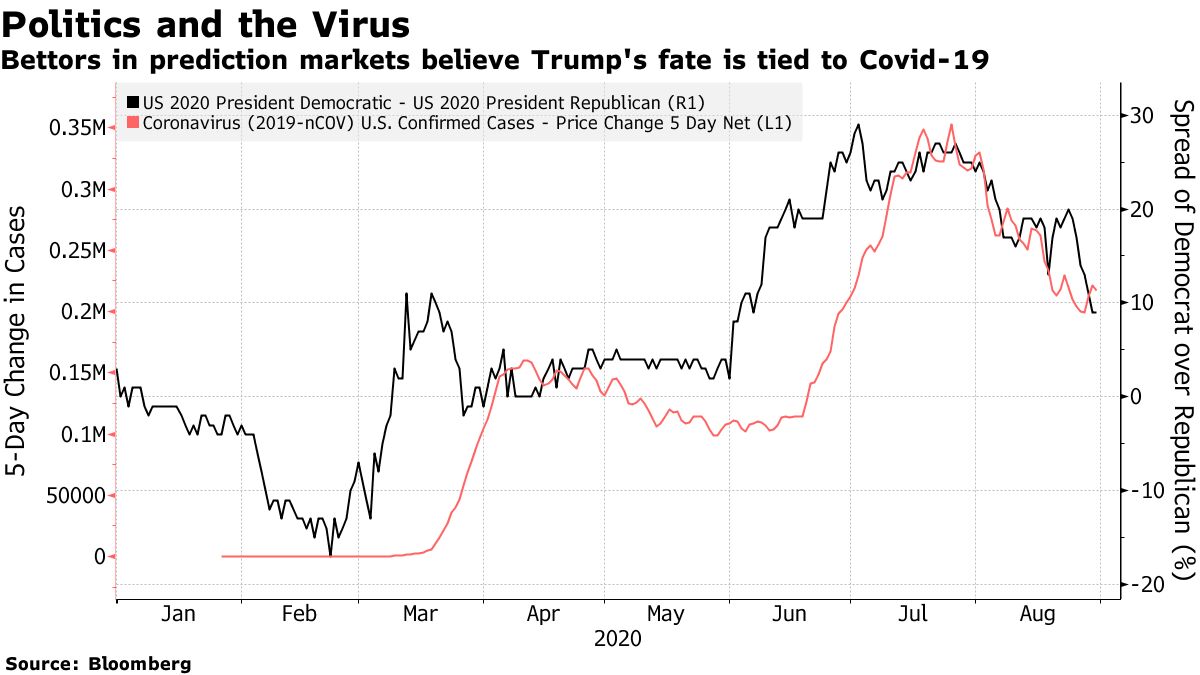 If cases continue to decline, Trump's chances will be deemed to improve further. Moreover, there is evidence that the virus is less deadly as time goes by. The fact that the…


Read More: Election Prediction Markets Show Kenosha Is Helping Trump