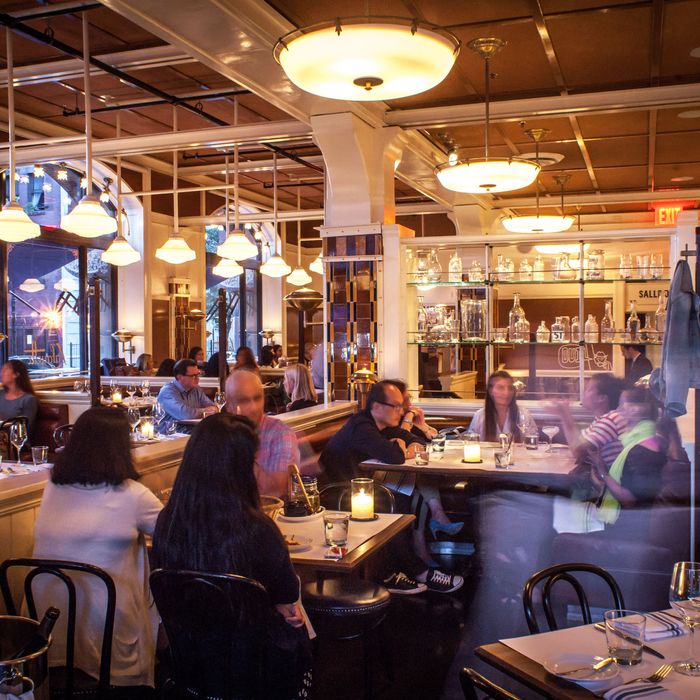 A pre-COVID scene at Lafayette in lower Manhattan.
Photo: Paul Wagtouicz
Ravi DeRossi is one of New York City's most well known restaurateurs. His name is synonymous with a certain style of low-key, high-volume, alcohol-forward eatery you find in downtown Manhattan, which perhaps is not a coincidence, because DeRossi is currently operating nine of them. His empire includes an ever-changing roster of businesses: There is a plant-based tapas bar and an actual bar-bar that specializes in bitters. There is a low-lit, earthy date spot. There used to be an "exotic vegetable bar" that soon will be reborn as a vegan Filipino restaurant. With so many various establishments, DeRossi has seen firsthand the very different ways that the ongoing COVID-19 pandemic can affect sales. At Ladybird, his tapas spot, DeRossi says, business is "actually doing very well." But his restaurant next door — the vegetable bar turned Filipino spot — has shuttered. The difference: Ladybird has space for 40 outdoor seats, which is roughly what it had inside. The space next door is blocked by a fire hydrant."I'm literally only going to get eight seats," DeRossi says. "We couldn't even do enough sales to pay the staff, because of the fire hydrant."
For the roughly 10,000 restaurants that are currently participating in the program, New York's expanded outdoor dining is perhaps not the solution to combating the economic downturn that arrived after sitting barefaced near other people became a dangerous activity, but it is certainly a solution, part of the patchwork of projects — merch, meal kits, delivery — that has helped operators stay in business. "Summer dining has allowed us to just do the bare minimum to keep things operational," says Alfredo Angueira, owner of Bricks & Hops, Bronx Drafthouse, and Beatstro, all in the South Bronx. Now, though, with Labor Day looming, many in the industry are terrified about what happens next: What does New York City look like when the picnics end and the weather cools and everyone heads back inside?
The dilemma could not be clearer: New York City restaurant owners say that, without income from indoor dining, many — so many — will be forced to close for good. "I don't know how many places could survive just doing to-go and delivery," DeRossi says. "We'd be done. We'd be finished." This isn't an estimate; he tried to make it work, and the numbers weren't good. "With delivery, we're doing less than 10 percent," he explains. We couldn't sustain at all."
What about government aid? Despite repeated pleas for an industrywide bailout, no further relief seems to be forthcoming. And at the same time, New York City officials have offered no public timetable or plan for indoor dining. They don't know if it'd be possible to do it safely and have not defined what "safely" even means, except to bleakly say that "it would take a huge step forward." Lately, the mayor has hinted that the only acceptable path ahead may be a vaccine.
But if this is an existential crisis for New York City's entire restaurant industry — the consensus is: "It is" — then it's worth looking at what successful, safe indoor dining could look like in the country's most populous city. The problems are clear. Real solutions, though, remain frustratingly elusive.
Long Island and Westchester County both reintroduced indoor dining at the end of June, offering at least a model for what that could look like in New York City: 50 percent capacity, with distanced tables, "enhanced sanitation and disinfecting requirements" and masks for everyone — though diners can take them off while seated. In New Jersey, where indoor dining was also postponed in July, restrictions will start to lift on Friday, when restaurants will be allowed to open at 25 percent capacity across the state. There, too, tables will be spaced six feet apart, customers are required to be masked except while eating, and reservations will be encouraged to help with both crowd control and potential contact tracing. Philadelphia has remained closed even as the rest of Pennsylvania has started to reopen, but the city will resume limited indoor dining on September 8 at 25 percent capacity, with masks for everyone and face shields for servers, using physical barriers at cash registers and in kitchens and seating no more than four diners per table. (In an unusually comprehensive twist, Philly also requires restaurants to "have sick leave policies in place so that employees excluded from the workplace do not lose earnings.") So: Why not implement something similar in New York?
"It would seem if restaurants…


Read More: When Will Indoor Dining Return to New York City Restaurants?