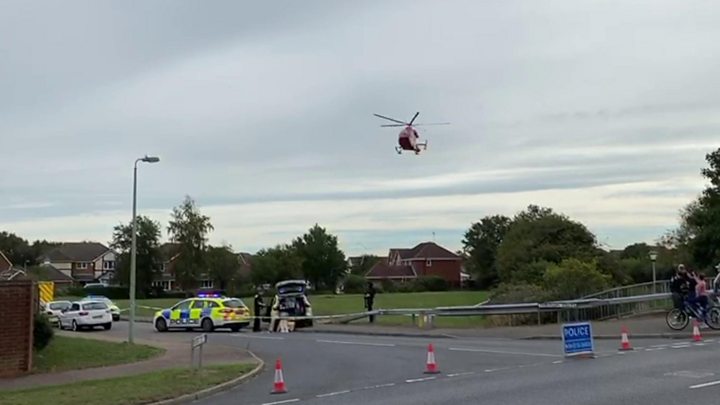 A 15-year-old boy is in a critical condition after he was shot on the way to school.
Officers were called just after 08:40 BST to the Grange Farm estate in Kesgrave, Suffolk, where a person was later seen receiving medical treatment.
Kesgrave High School said it had been told the incident involved one of its Year 11 students. The victim, who was shot once, was flown to hospital.
Suffolk Police have arrested a boy, 15, in connection with the shooting.
The suspect, who is said to be from the Woodbridge area, was arrested by armed police on suspicion of attempted murder.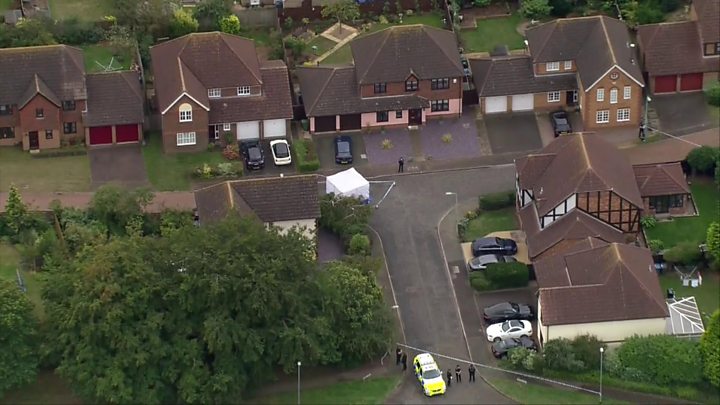 An Essex and Herts Air Ambulance landed on an area of grass and took off just before 10:00.
Police said they were treating the shooting "as an isolated incident" and do "not believe there is any wider threat to the local community". The Suffolk force said it was thought a single shot was fired in the incident.
It also confirmed a cordon in Westwood Avenue, nearly five miles (8km) from the location of the shooting, is connected to its investigation.
Assistant Chief Constable Rob Jones said: "Following this serious incident our priority is to keep everyone safe."
"There will be more police officers on patrol and to provide reassurance in the area and I would ask for anyone with information about this incident to come forward," he added.
Education Secretary Gavin Williamson told the House of Commons: "I think we're all shocked and saddened to learn about the incident in which a young person was seriously hurt on their way to school in Suffolk today.
"Our thoughts are very much with the young person, their family and the whole school community at this very difficult time."
Eyewitness Andy Watts told the BBC he was out walking his dog when he heard "a gunshot and then I heard a great big scream".
"It sounded like scaffolding falling down originally because it was a big, big crash," he said.
"I saw them working on the young lad over on the green; he was over there for quite a while while they were attending to him, a lot of ambulance staff and paramedics working on him."
Phil Bennett, 38, said his father lived near the scene in Kesgrave and heard a gunshot.
Mr Bennett said he drove to check on his parents at their home in Lyon Close after seeing vague details of the incident on Facebook and becoming concerned.
"My dad heard a gunshot," he said. "He's a retired paramedic – he's heard a lot of gunshots in his time, so he stayed indoors.
"The next thing he knew there were police piling in, then it's a scene of crime.
"It's hard to believe this has happened 100 metres from my mum's front door, that someone's been shot. It's terrible what's going on."
At the scene
Kate Scotter, BBC News
Kesgrave is a small town on the edge of Ipswich that has grown rapidly over the past 20 years.
It has two primary schools and a high school and is packed with families. I've been to the scene of the shooting, in the heart of the town's Grange Farm estate, and the sense of shock about what's happened is palpable.
This is a tight-knit community where many people know and look out for each other. The police have reassured people that this is an "isolated incident" but the feeling of concern remains.
Kesgrave High, which said the pupil was on his way to school at the time of the incident, said in a statement: "Students in school are safe and we are managing the situation in constant, close communication with the police."
It is understood Monday was the first day back at school for its Year 11 pupils following the coronavirus lockdown and the summer holiday.
Friends Walk and Through Jollys have been closed off and there is a partial closure in Ropes Drive. Police have urged the public to avoid these areas.


Read More: Kesgrave student 'critical' after shooting on way to school