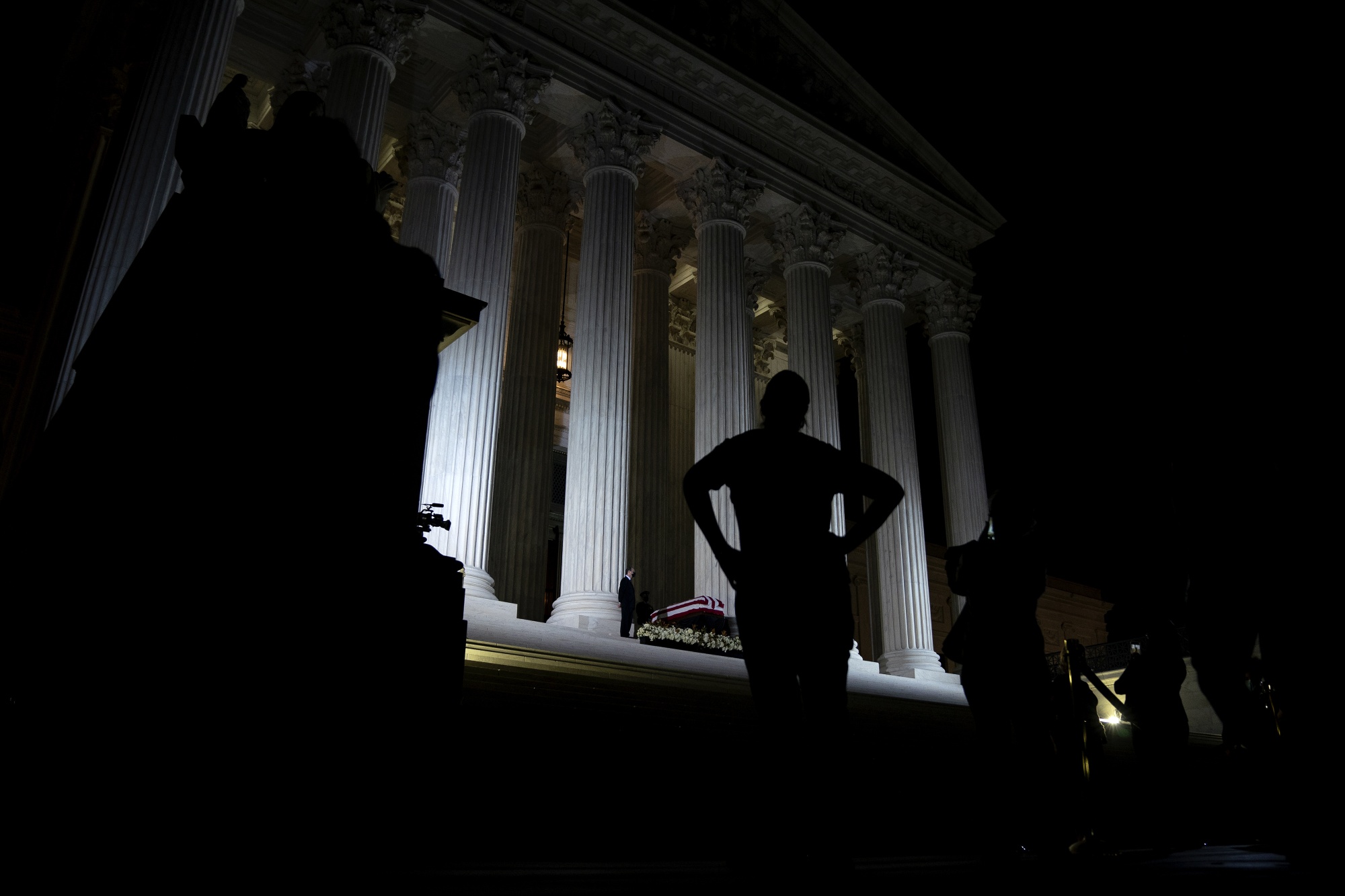 To get John Authers' newsletter delivered directly to your inbox, sign up here.
"All the Things We Can Think Of"
The stock market sold off again Wednesday. It has done so more often than not this month. But it would be a mistake to draw a line between the latest bout of negativity and those that preceded it. Earlier sell-offs involved an attempt to correct obviously excessive prices in some of the dominant tech names. The latest sell-off was about rethinking the basic assumption that the U.S. and world economies can continue to recover, buoyed by continuing Fed largesse. This wasn't so much "we took things too far" as "we might have taken things in completely the wrong direction."
It is difficult to get through one of these newsletters without mentioning the FANGs these days, so I'll try to make this the first and last reference. The NYSE Fang+ index barely underperformed the equal-weighted S&P 500 index Wednesday, and has gained more than 5% on the average stock over the last two weeks. This was true despite Tesla Inc.'s underwhelming "battery day" giving everyone an excuse to sell. At this point, the downdraft in U.S. stocks isn't about the FANGs.
The tell as to what is worrying people came from the metals market. Gold has enjoyed a great bull run this year, up to and including record highs. That generally signals anxiety. Industrial metals recently completed a recovery that suggested newfound optimism for a cyclical upturn. Both precious and industrial metals have now changed course: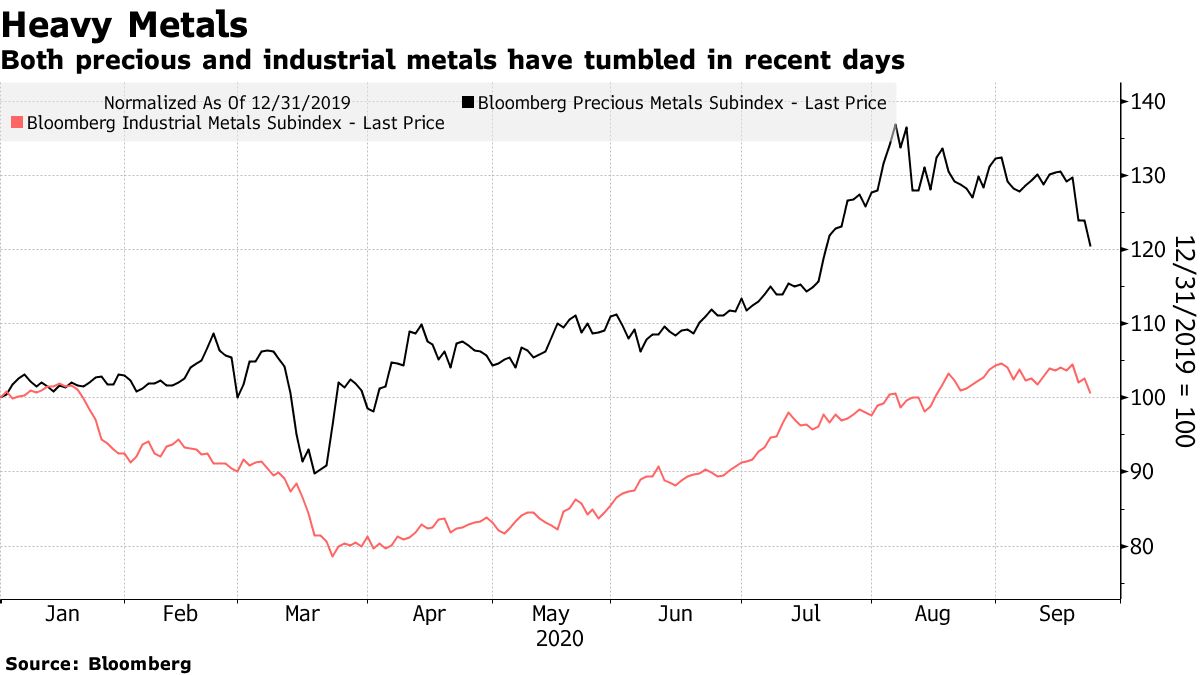 Why is gold falling? Put one way, the inverse relationship with real yields continues. When real yields rise then gold, which pays no income, can be expected to fall. This is true even if real yields are rising from deeply negative territory. To explain the intuition behind this, gold is widely regarded as a hedge against central banking irresponsibility. Recent speculation is that the Fed may not print money and cut rates with quite the gay abandon that had been assumed. This may or may not be good news for the U.S. economy, but it raises real yields and for investors in gold and in risk assets, who might benefit from currency debasement, it is definitely bad news.
It is only a month since the Fed unveiled a historic change in its monetary policy strategy, suggesting that it will be prepared to tolerate far more inflation in future. It is only a week since Chairman Jerome Powell's press conference confirmed that the members of the Federal Open Market Committee collectively don't expect to raise rates for at least another three years. And yet real yields have been rising from their previous historic lows ever since that press conference. They have now gained 19 basis points from their low earlier this month, while gold has sold off sharply and has dropped below the $2,000 level that caused such excitement in August: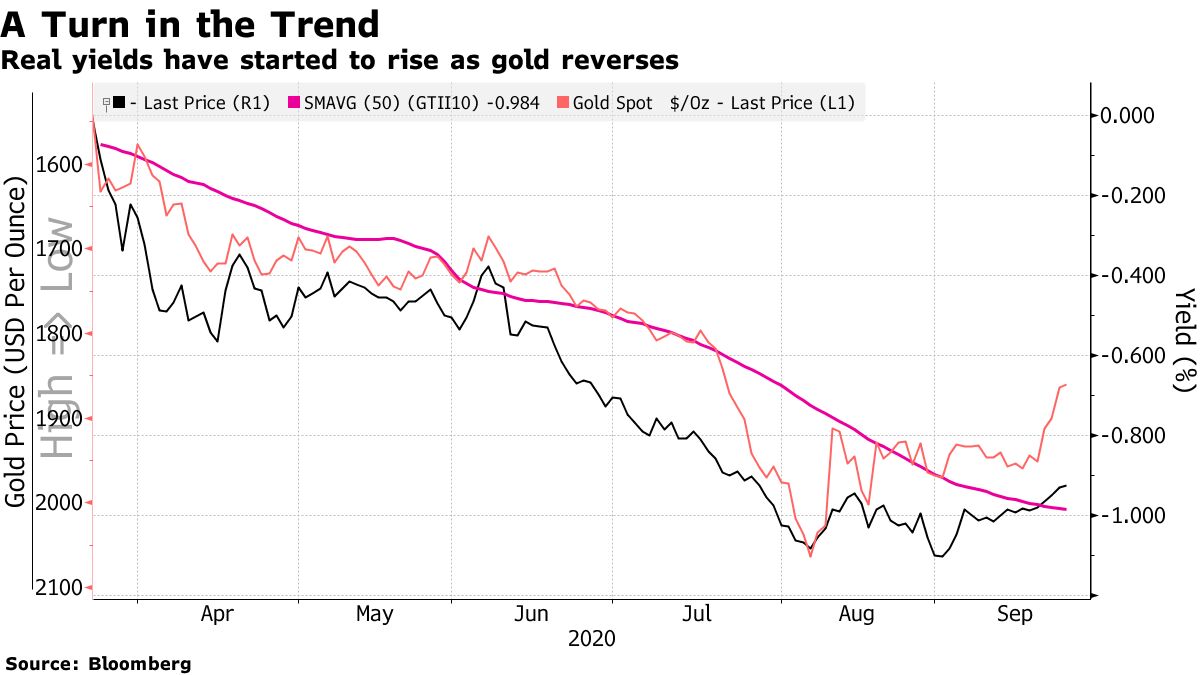 I argued last week that markets would soon realize it would have been greedy to expect the Fed to be any more dovish. That call isn't looking good, thus far. What has gone wrong?
I think two main issues are involved. First, there is the death of Supreme Court Justice Ruth Bader Ginsburg. The passing of the liberal icon has no direct effect on markets, but the political conflict it has engendered does create much greater uncertainty over whether any kind of fiscal stimulus can be thrashed out any time soon. Now, members of Congress have to worry about re-election and a historically divisive court appointment. They may have neither the time nor the attention span to agree on a deal to tide people and businesses through the pandemic.
Testifying to Congress this week, Powell tried to make clear that elected politicians needed to come through with more generous fiscal policy. In this, he was simply doing his job and prodding them into taking action he considered necessary. But when he said that some Fed emergency programs "require the support of the Treasury Department," that the Fed's credit facilities were no more than a…


Read More: This Bout of Stock Market Angst Looks Much Darker